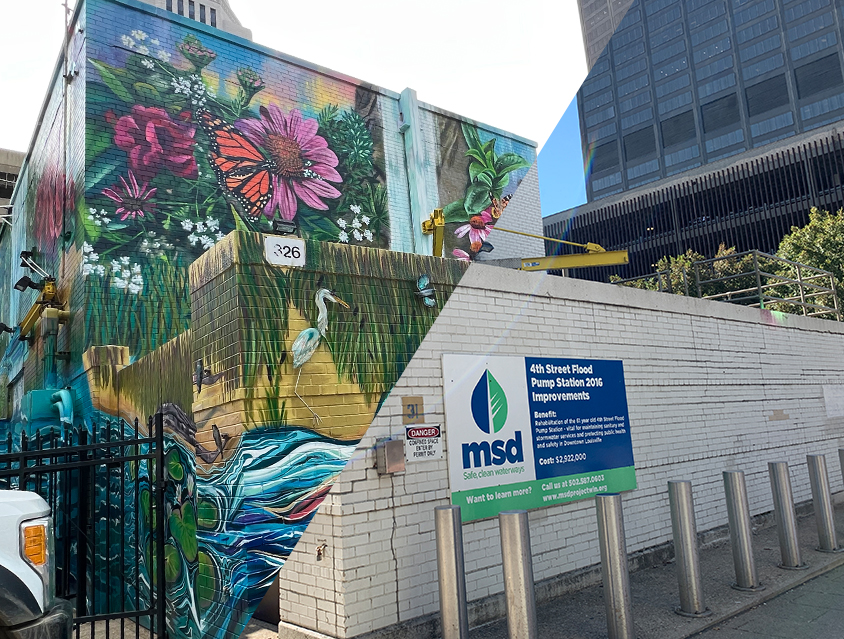 Outdoor advertising is often pretty flat – both literally and figuratively. But what if your canvas is not a billboard, but a building? And what if you can transform a key downtown corner for residents, workers and visitors, while at the same time communicating your organization's brand in a bold new way?
That's exactly what BCH did with the creation of a four-sided, building-sized work of art for our client Louisville MSD, recently earning top honor – "Best in Show" – at AAF Louisville's annual Addy Awards recognizing the region's best creative.
Here's a look at how this project came together:
BCH has worked with MSD for a few years now to rebrand itself away from purely being "the sewer company," but instead as a valued community partner and environmental steward focused on "Safe, Clean Waterways" – provided through its three core services of wastewater treatment, stormwater management and flood protection services. Standing at the corner of 4th and Main streets in Louisville's downtown is MSD's downtown pump station, which is vital for maintaining sanitary and stormwater services and protecting public health and safety. It's an important job – but in a drab and nondescript mechanical building that did no favors for the surrounding area, a key juncture of commerce, entertainment and tourism for downtown Louisville.
BCH had eyed this MSD building as a key branding opportunity due to both its prominent location, but also its key function in MSD's work. So when it came for MSD to repaint the building, BCH proposed a curveball: rather than going back with the same old white paint that made this structure look more like a bunker, let's bring the brand forward and turn an eyesore into an asset — while at the same time bringing attention to MSD's work to create safe, clean waterways. Our creative team visited the building, walked around it, climbed on top of it, took pictures and measurements, and observed the downtown surroundings before developing a variety of conceptual approaches for a four-sided, building-scaled mural. BCH presented the concepts to MSD, and after a concept was approved, BCH then obtained proposals from a number of mural artists to help make the vision a reality. We also navigated the project through the city's public-art approval process as well as Public Works Department permitting for the  closure of sidewalks and some turning lanes required during mural installation.
We partnered with regional artist and University of Louisville alumna Whitney Olsen to take the dreams on paper and laptop screens to brick and concrete through the hand painting and installation of dimensional elements. The project took approximately 6 months to complete.
The resulting work showcases area waterways and wildlife that thrive when waterways are properly cared for, with colorful and fanciful representations of water, plants and animals. It also incorporates fused glass mosaic and metal sculptural elements that will take on different appearances at different times of day due to how the light hits the building.
It is a celebration of nature in the midst of its concrete neighbors… and tells MSD's story of Safe, Clean Waterways. See more about the elements of the mural in this video: