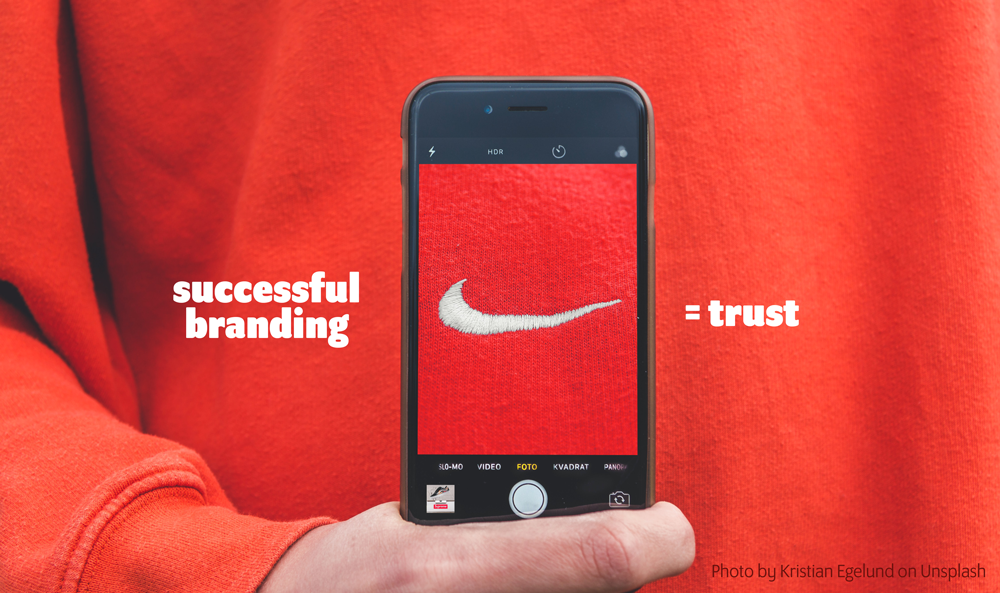 A core tenet here at BCH is that "If you don't get the brand right, nothing else matters." This is where successful marketing should begin.
Doing this requires copious research and analysis resulting in key insights. Some of the research we feel is important involves learning from successful brands, and Morning Consult's recent study uncovering the Most Trusted Brands in America* lends some valuable takeaways for marketers.
This study ranks brands by "net trust" which tells a more complete story on brand trust. Just looking at trust doesn't give you the full picture, as it removes the sometimes sizeable share of consumers that distrust a brand. Net trust is the share of respondents who said they trust each brand to do the right thing "a lot" and "some," minus the share who said, "not much" or "not at all."
Why do we care about "trust?" Trust is a critical component of successful branding. It speaks to authenticity which is very important today to win over consumers. Being authentic makes you real. It is a very valued character trait especially today with millennials. In addition, branding is about building a relationship. All relationships are built upon trust. Whether it's a romantic relationship or a relationship between a customer and a brand, if there is no trust, there can be no relationship. Trusting a person or a brand involves estimations of probabilities of how the person or brand will behave and is a state of vulnerability for the person that is placing trust in another. Put another way, trust is a feeling of confidence and security in the way an entity will act.
Brands that are people-centric – that is, those brands that put people before profit – more easily gain the trust of both employees and customers. When customers and employees know they are personally valued, they are more likely to trust a brand and remain loyal to it, as they recognize that the brand prioritizes relationships over sales. Customers trust brands that are honest, consistent, provide value, and put people first.
And trust is not an aspect of a brand that shifts much year over year. Once you gain trust, typically you don't lose it. That is, of course, provided you don't do something stupid like Chipotle… when more than 50 customers became sick from food infected with E. coli.
The following chart illustrates the average change in net trust, year by year, in the U.S.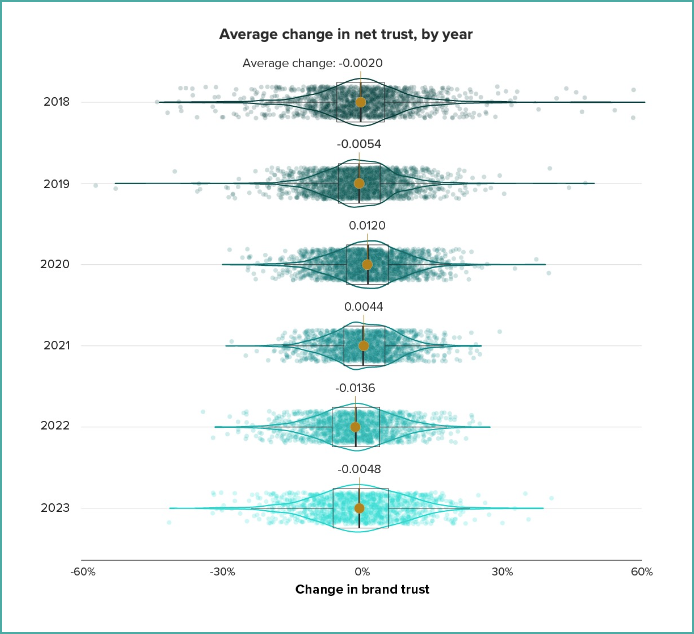 Despite a tumultuous five years – including plenty of historic moments including a global pandemic, two presidential impeachments, persistent high inflation and bank failures – overall brand trust remains relatively stable. Again, once you gain trust, typically you don't lose it. Trust is a key component of branding and consequently a key component of business success.
So who's most trusted?
Back to Morning Consult's study. Who are the brands that have built consumer trust?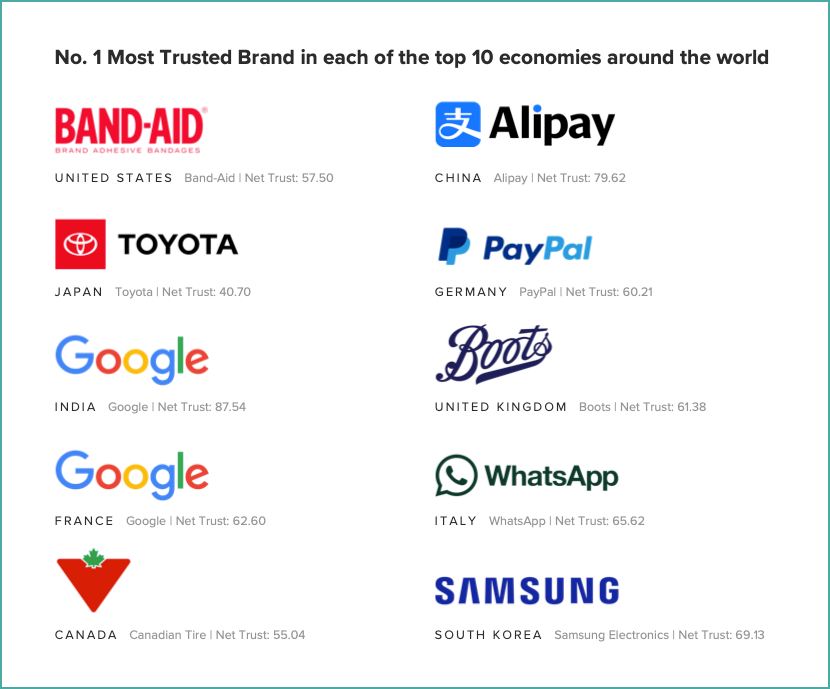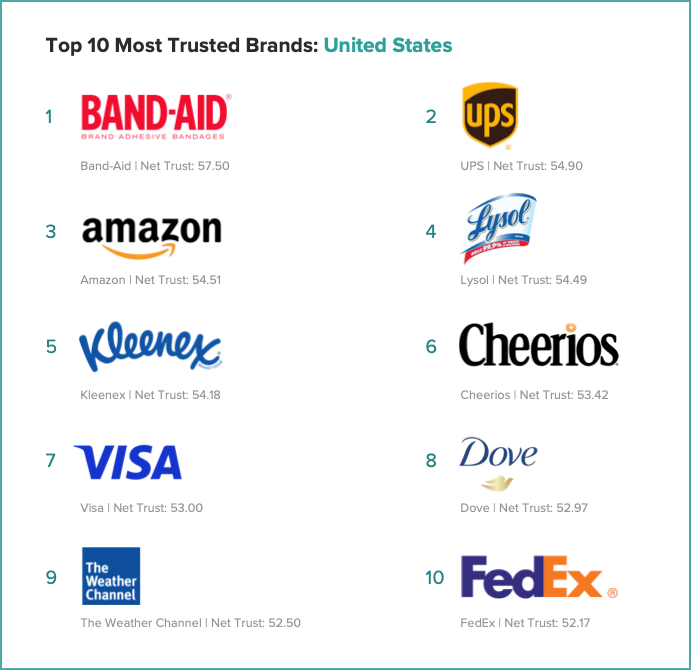 All of these brands are leaders in their respective categories, and you can likely draw conclusions from some of these brands solidifying their trust further during pandemic times (i.e. health and cleanliness-related, or shipping goods to the home). So, we ask ourselves, what can we learn from these brands? What is consistent with regard to branding and marketing?
Transparency is crucial. A brand must build its culture around being transparent about its goals, values, ideals, and practices. Transparency can be thought of as being open and honest. For customers, it means that a brand is honest about how it will be collecting customer data, what it will be doing with that data, and how it will be shared with others. It means being upfront about shipping and handling fees. It means having integrity in one's dealings with customers, employees, and everyone it deals with. It means owning up to failures and mistakes, learning from them, and never repeating them.
Open communication is also necessary. Trusted brands openly communicate with customers, not so frequently that the brand becomes an annoyance, but often enough that the customer never feels left in the dark. With two-way conversational messaging, brands can evolve how they proactively reach, retain and engage valued customers. Omnichannel conversation takes this engagement a step further by allowing for instantaneous, contextualized messaging on whichever channel (or channels) a customer prefers.
Which leads us to another important aspect in addition to messaging: communicating with a holistic CX (customer experience) approach. Companies looking to take a holistic approach to CX must consider the entire customer journey, across all channels and over time. Throughout this journey the customer interacts with your brand in a number of ways. Each point of contact… moment of truth, if you will… must be managed. Trusted brands manage all those moments of truth.
Trust in the food and bev space
BCH is focused on the food and beverage segment. It is a foundational expertise for our agency. So, we are especially interested in the most trusted food and beverage brands.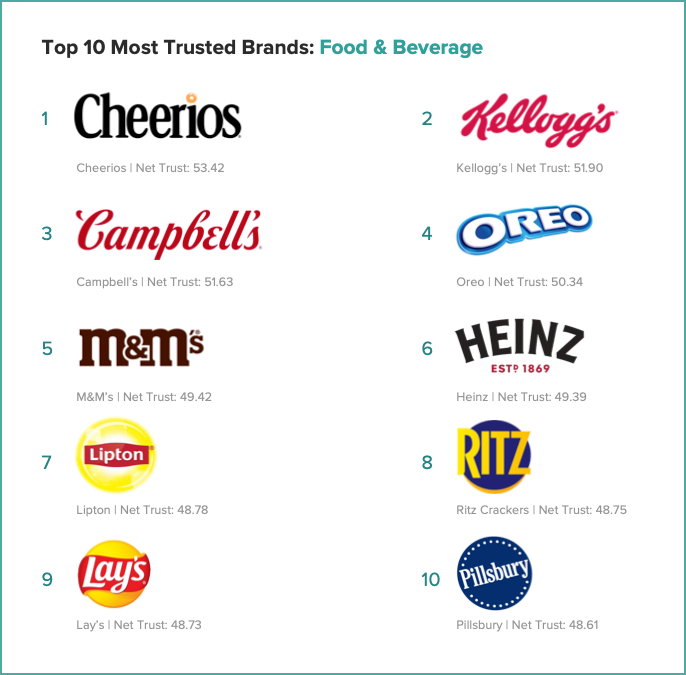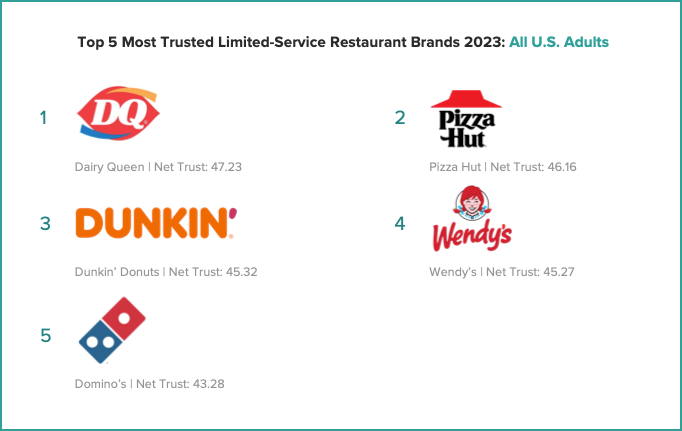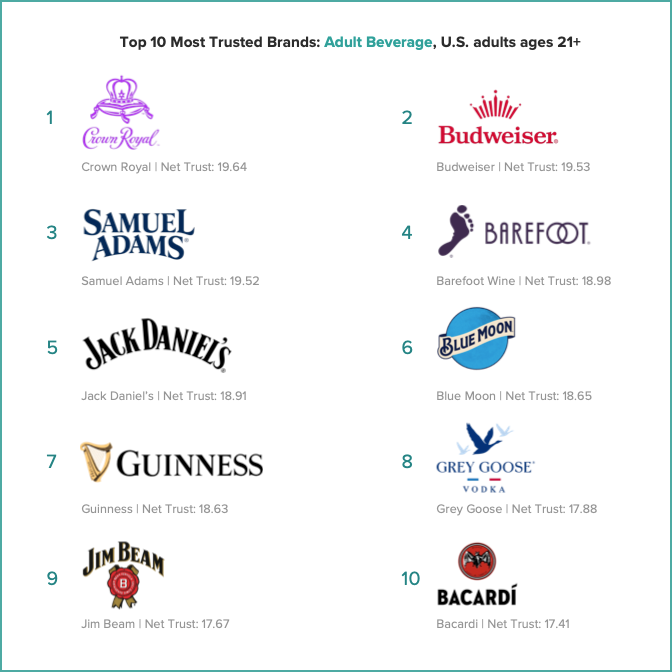 So, what can we learn from these F&B brands? With regard to food, there are many opportunities for touch points because it has a high repurchase cycle. So, longevity and heritage leads to near ubiquity in terms of consumer awareness, which translates into favorability and, in turn, trust. Trusted brands lean on their legacy.
In contrast, restaurants have fewer interactions and thus fewer touchpoints to earn consumers' trust. That's both because people tend to eat out less frequently than they eat at home, and because many restaurant brands don't always have a national presence. What's more, customer experience plays an influential role in restaurant interactions, adding another layer to the trust equation.
Finally, beverage alcohol. Let's look at what the category leader is doing, in terms of trust. Crown Royal achieves the top spot by consistently delivering on quality expectations. Quality has been a central brand tenet since Crown Royal was invented for the king and queen of England on a visit to Canada in 1939. In recent years, the brand has touted a karmic "Live Generously and Life Will Treat You Royally" message that likely helps solidify in consumers' minds the brand's
intentions to do the right thing. That message is more than just a slogan for the whisky brand. Crown Royal exemplifies living generously and simultaneously builds consumers' trust with campaigns like The Purple Bag project, which sends care packages to active military troops.
In summary, trust is crucial to strong brand development. Remember eight key pillars of strong branding that results in consumer trust are:
authenticity has to be a part of your brand foundation
use your brand to build a relationship
adopt a people-centric mindset
transparency is a must
establish an open communication philosophy
implement a holistic CX approach in your communications plan
lean on your heritage… if you don't have one, create one
always keep a close eye on quality and excellence.
Want to know more about establishing a trusted brand? Call BCH.
*Source: Morning Consult Brand Intelligence 2023