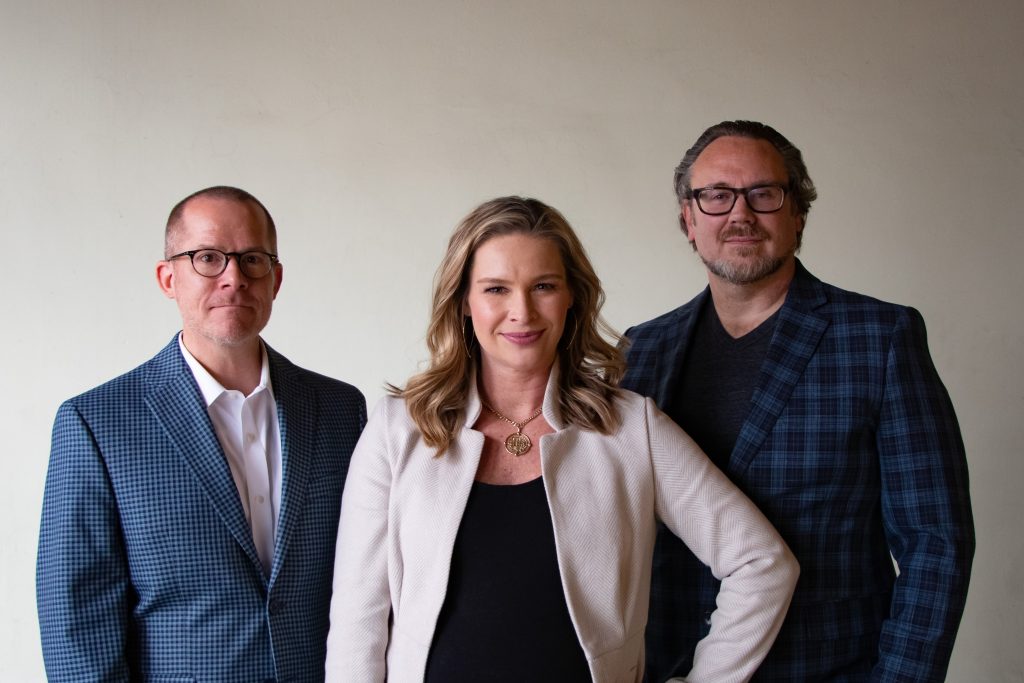 Allison Pitman, Matt Kamer, Brian Garr acquire ownership, land several client wins
A marketing strategist, a public relations expert and a creative director walk into a bar. Or in this case, walk into Bandy Carroll Hellige, a Louisville-based agency with a 33-year track record of building clients' brands, particularly in food, beverage, entertainment, destination marketing and other hospitality categories.
Allison Pitman, Matt Kamer and Brian Garr have purchased the advertising and public relations firm – now known formally as BCH Agency – from Susan Bandy, Mark Carroll, Tim Hellige and Gary Sloboda. The ownership change caps a stretch of recent wins of new clients or expanded business, including Arby's, the National Marine Manufacturers Association, Louisville Orchestra, and Bluegrass Hospitality Group, the parent company of Drake's and Malone's.
Pitman has led the agency's brand management group for the past several years, overseeing client strategy and account service. Kamer is a 25-year public relations professional, having previously served as deputy director of communications for Mayor Jerry Abramson prior to joining BCH in 2007. Garr is a "boomerang" at BCH, having spent 17 years as associate creative director, before departing for a few years, only to return in 2018 to step into the creative director role.
The new BCH is the only agency in the region where ownership's expertise represents the three different agency disciplines of marketing strategy, public relations and creative.
"It's something at our core of how we work," Kamer said. "We're going to not just find and reach your customers, but we're going to make them your best customers – who become your fans and ambassadors as a result of our high-impact creative that captures interest, combined with our public relations that builds trust and alignment with a brand."
Former agency principals Mark Carroll and Gary Sloboda are retiring at year's end. Susan Bandy and Tim Hellige remain with the firm in senior roles.
"When we founded the agency in 1989, we never could have imagined a better succession plan that we have with Allison, Matt and Brian," Carroll said. They're going to take the agency to even greater heights."
The agency has 35 employees and additional clients include Kentucky Lottery, Republic Bank, Louisville Water, MSD, Kosair Charities and Delta Dental of Kentucky. Business First of Louisville has twice designated the agency among Louisville's "Best Places to Work," for its family-like culture that has contributed to productive teams and award-winning, record-breaking work for clients.
"Clients choose BCH because we help brands put more life into living," said Pitman. "Whether it's food and beverage, hospitality and entertainment, or any brand that has an impact on quality of life, we want our work to help our clients' audiences, customers and stakeholders find more joy in their lives."
The agency's expertise was built on decades-long relationships with clients such as McDonald's where BCH drove foot traffic and built brand loyalty for more than 400 restaurants across six states; Four Roses Bourbon, where BCH helped reintroduce the brand to the U.S. in the mid-2000s after a 40-year absence and fostered its expansion to become one of the fastest growing brands in 2021; and Louisville Tourism, where the agency and client partnered about 15 years ago to create the concept of Louisville as the gateway to "Bourbon Country" which set the stage for the city's bourbon boom in attractions and visitors. The agency also has worked over the years with clients such as Forecastle, Caesars Southern Indiana, the Frazier Museum, Louisville Zoo, The Galt House, Kentucky State Fair, Parklands of Floyds Fork, Kentucky Kingdom, Phocus and more.
"Any brand can advertise, but the magic happens when you can turn ads from annoying interruptions for an audience into meaningful connections with them. That's how you truly bring a brand to life," Garr said. "Crafting messages and experiences like that are more engaging for us to create, and for the audience to receive. Winners all around."